SDSU Extension to host 3rd annual Beef Day
COURTESY OF SOUTH DAKOTA STATE UNIVERSITY EXTENSION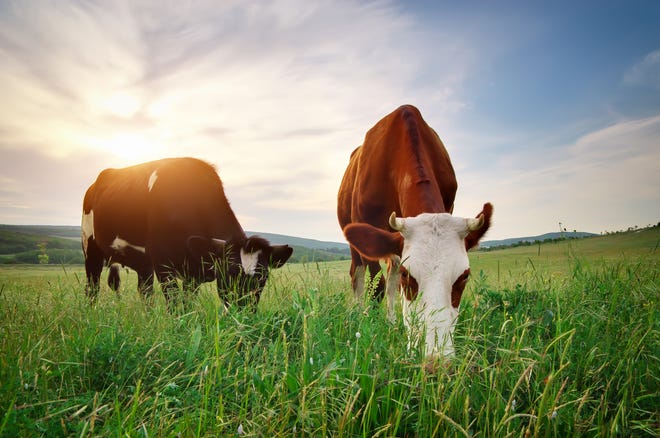 Brookings, S.D. — Beef producers will have the opportunity to explore the direction of the cattle market and the latest beef cattle research happening at South Dakota State University at the third annual SDSU Beef Day on Wednesday, Feb. 9. This year's event will be held in Club 71 inside the Dana J. Dykhouse Stadium on the SDSU campus.
The day will kick off with a keynote presentation from Katelyn McCullock, Director and Senior Economist for the Livestock Marketing Information Center. LMIC has been providing economic analyses and market projections since 1955, and in her presentation, Katelyn will share her thoughts on where the cattle market is headed over the next year.
"Beef Day is about exchanging information and learning as a community," says Kiernan Brandt, SDSU Extension Cow/Calf Field Specialist. "It gives us a chance to come together and to share the work being done to address the problems facing our industry, as well as identifying areas that will be important in the future. Researchers put in a ton of work throughout the year, and this is a fantastic opportunity to share that research with the public and demonstrate SDSU's commitment to the improvement of the South Dakota beef industry."
More than 20 different research projects and Extension programs will be highlighted during the day. Graduate students and researchers will be available to interact with attendees and answer questions during the networking break, and a full proceedings document will be provided to each registrant.
Program Agenda:
12:30 p.m.(CST) – Registration
1:00 p.m. – Welcome – Dr. Joe Cassady, Head of the Department of Animal Science and Interim Head of the Department of Dairy and Food Science
1:15 p.m. – Keynote Speaker – Katelyn McCullock, LMIC Director/Senior Economist – "Cattle Markets Outlook"
2:15 p.m. – Networking break
2:45 p.m. – SDSU research updates 

"Principles of holistic resource management: Investing in self-education" – Pete Bauman, SDSU Extension Natural Resources and Wildlife Field Specialist
"Applications of precision livestock management technology on extensive rangelands" – Jamie Brennan, Assistant Professor and SDSU Extension Specialist-Livestock Grazing; Hector Menendez, Assistant Professor and SDSU Extension Specialist-Livestock Grazing
"Reproductive technologies: Getting pregnant and pregnancy testing" – Julie Walker, Professor and SDSU Extension Beef Specialist
"Re-thinking feedlot diets: Alternative feeds and roughage sources" – Warren Rusche, Assistant Professor and SDSU Extension Feedlot Management Specialist

4:45 p.m. – Bull Pen (Q + A) Session
5:00 p.m. – Closing
Advance registration is available at https://extension.sdstate.edu/event/beef-day-2022. Registration is $20, and pre-registration will remain open through the morning of Feb. 9.